BroadJump Named Best Place to Work Four Years in a Row
BroadJump awarded spot #12 on Modern Healthcare's 2019 Best Places to Work list
DALLAS, TEXAS – MAY 13, 2019 – For the fourth consecutive year, BroadJump has been selected by Modern Healthcare as one of the 2019 Best Places to Work in Healthcare. The award recognizes outstanding employers in the healthcare industry on a national level. "Despite the political headwinds that the industry faces, healthcare organizations continue to be dominant economic engines in their communities," commented Aurora Aguilar, editor of Modern Healthcare. "Organizations recognized on this year's list have also weathered mergers and reorganizations and have come out stronger."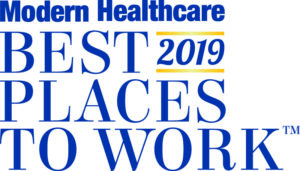 "At BroadJump, we believe client success and employee satisfaction go hand-in-hand, and we're proud to be recognized by Modern Healthcare for our efforts," said David Ricker, Founder and CEO of BroadJump. "We have a diverse team all driven by a common goal: To improve the healthcare industry. We know how important our team members are to our overall success, and we strive to maintain a culture where they are encouraged to contribute and grow."
"When we started BroadJump, we were committed to building an environment where employees would love to work. We want to recruit the best talent, to build the best solutions on the market – that request constant attention to our culture," said BroadJump's Chief Operating Officer, Greg Corban.
BroadJump placed at #12 on this year's list. Modern Healthcare partners with the Best Companies Group on the assessment process, which includes an extensive employee survey. Companies are selected on a variety of factors, including corporate culture, engagement, benefits, relationships, employee satisfaction and development.
The full 2019 list can be found here.
About BroadJump
BroadJump offers a portfolio of spend management solutions, supported by comparative data analytics and our team of industry experts, that provides visibility into the entire range of a healthcare organization's non-labor expense. Our clients receive comprehensive, unbiased analyses to quickly achieve real cost savings and insight into clinical utilization, resulting in improved efficiency and care. For more information, please visit www.broadjumpllc.com.