BroadJump Named Best Place to Work Five Years Straight
Modern Healthcare's 2020 Best Places to Work list
DALLAS, TEXAS – JULY 13, 2020 – BroadJump has been selected by Modern Healthcare as one of the 2020 Best Places to Work in Healthcare. This is the fifth consecutive year BroadJump has earned a spot on the list, ranking at #10 this year. The award identifies and recognizes outstanding employers in the healthcare industry nationwide.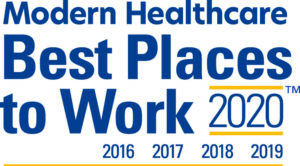 "It has been an especially trying year for the world, and healthcare in particular, as COVID-19 ravages our communities and your workplaces," said Aurora Aguilar, Modern Healthcare's editor. "But the organizations recognized on this year's list rose to the top and continued to be a source of strength for their teammates. The loyalty and trust between employers and their workers is being put to the test now more than ever. We congratulate the Best Places to Work in Healthcare for continuing to serve their workforce and communities during such an unprecedented time."
"We're honored to be recognized as a Best Place to Work in Healthcare five years in a row, especially during a year that has involved so much change," said David Ricker, Founder and CEO of BroadJump. "Our office has shifted to fully remote operations to ensure the health and safety of everyone during the COVID-19 pandemic. While our team misses the in-person atmosphere, they have rallied together to make the best of the situation and continue providing outstanding services to our clients. BroadJump is committed to supporting and empowering our employees, as we know they are the true source of our success."
"This award has always meant a lot to our company and our management team," said BroadJump's Chief Operating Officer, Greg Corban. "Since we started the company, we were focused on creating a great atmosphere for our employees to grow and thrive, knowing that would be reflected in our solutions and our services to the provider market. After five consecutive years on the list, reaching tenth place is pretty amazing, and I can't thank our wonderful team enough."
Modern Healthcare partners with the Best Companies Group on the assessment process, which includes an extensive employee survey. The complete list of this year's winners is available at modernhealthcare.com/bestplaceslist. The official rankings will be announced at the virtual awards gala on October 8, and Modern Healthcare will publish a special supplement featuring a ranked list of all the winners along with the October 12 issue.
About BroadJump
BroadJump offers a portfolio of spend management solutions, supported by comparative data analytics and our team of industry experts, that provides visibility into the entire range of a healthcare organization's non-labor expense. Our clients receive comprehensive, unbiased analyses to quickly achieve real cost savings and insight into clinical utilization, resulting in improved efficiency and care. For more information, please visit www.broadjumpllc.com.